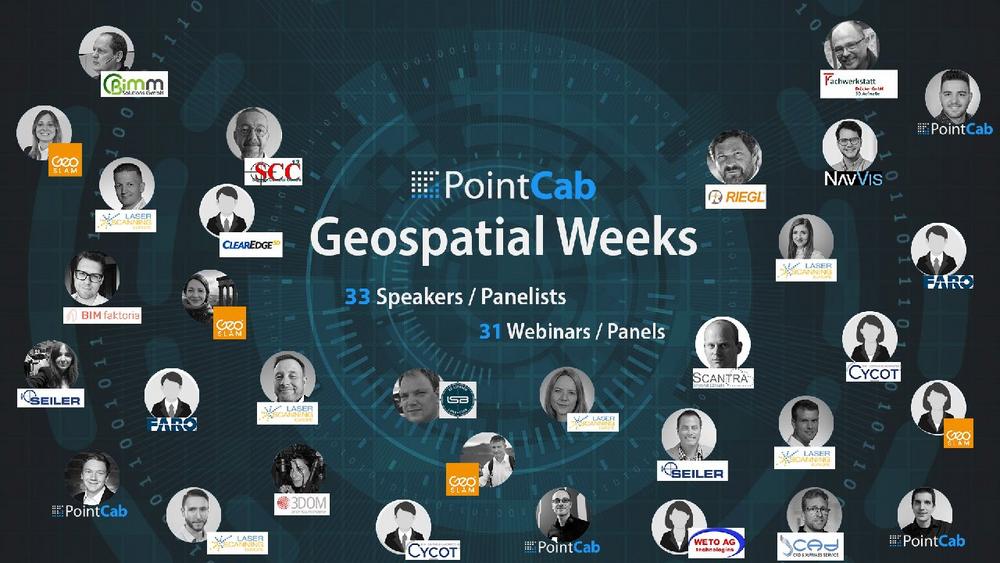 PointCab Geospatial Weeks (Webinar | Online)
PointCab Geospatial Weeks (Webinar | Online)
3 months. 31 webinars. 33 speakers.
Get ready for the PointCab Geospatial Weeks! We want to support you in your work during the pandemic with digital webinars. Don't miss out on one of the biggest webinar series the geospatial community has ever seen. Register now: https://www.pointcab-software.com/en/pointcab-geospatial-weeks/
A cross-industry event
The series will be kicked off by an all-female expert panel with the title "From Scan to BIM – How do we improve collaboration between different systems and industries?" on International Women's Day, the 8th of March with experts from GeoSLAM, Seiler, and Laserscanning Europe. Between March and June, more experts from companies like FARO, Riegl, NavVis, ClearEdge, Scantra, and many more are participating in panels or are holding webinars themselves. We are still receiving more responses from additional speakers. That's why we may even add a few more webinars along the way.
Eventdatum: 08.03.21 – 07.06.21
Eventort: Online
Weiterführende Links
Für das oben stehende Event ist allein der jeweils angegebene Herausgeber (siehe Firmenkontakt oben)
verantwortlich. Dieser ist in der Regel auch Urheber der Eventbeschreibung, sowie der angehängten
Bild-, Ton-, Video-, Medien- und Informationsmaterialien. Die United News Network GmbH
übernimmt keine Haftung für die Korrektheit oder Vollständigkeit des dargestellten Events. Auch bei
Übertragungsfehlern oder anderen Störungen haftet sie nur im Fall von Vorsatz oder grober Fahrlässigkeit.
Die Nutzung von hier archivierten Informationen zur Eigeninformation und redaktionellen Weiterverarbeitung
ist in der Regel kostenfrei. Bitte klären Sie vor einer Weiterverwendung urheberrechtliche Fragen mit dem
angegebenen Herausgeber. Eine systematische Speicherung dieser Daten sowie die Verwendung auch von Teilen
dieses Datenbankwerks sind nur mit schriftlicher Genehmigung durch die United News Network GmbH gestattet