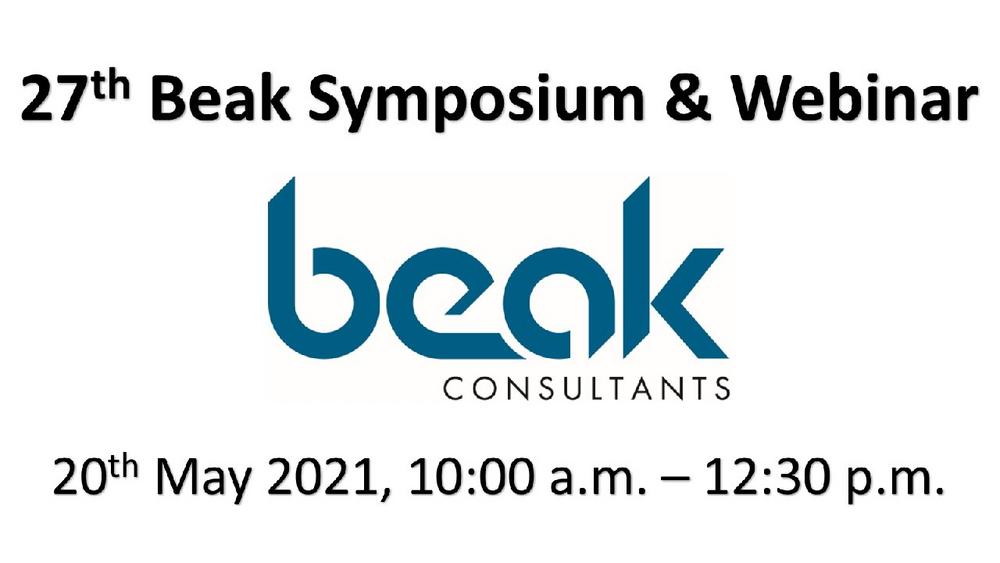 Beak Symposium – Pre-Announcement (Webinar | Online)
Beak Symposium – Pre-Announcement (Webinar | Online)
27th Beak Symposium
Pre-announcement and link to free online registration
SAVE THE DATE: 20th May 2021
31st March 2021, Freiberg (Germany)
Our 27th Annual Beak Symposium will take place on 20th May 2021 from 10:00 AM until 12:30 PM CEST as hybrid event – a combination of online (webinar) and, if possible, in-house events.
We cordially invite you to it!
This year, topics to be presented and discussed include remote sensing, raw materials research, environmental assessment, 3D modelling, e-government, geo-hazards and digital field data capture.
We are looking forward to your participation and hope for many interesting discussions.
The detailed presentation schedule will be provided on this website, soon.
Eventdatum: Donnerstag, 20. Mai 2021 10:00 – 12:30
Eventort: Online
Firmenkontakt und Herausgeber der Eventbeschreibung:
Beak Consultants GmbH
Am St. Niclas Schacht 13
09599 Freiberg
Telefon: +49 (3731) 781350
Telefax: +49 (3731) 781352
http://www.beak.de
Weiterführende Links
Für das oben stehende Event ist allein der jeweils angegebene Herausgeber (siehe Firmenkontakt oben)
verantwortlich. Dieser ist in der Regel auch Urheber der Eventbeschreibung, sowie der angehängten
Bild-, Ton-, Video-, Medien- und Informationsmaterialien. Die United News Network GmbH
übernimmt keine Haftung für die Korrektheit oder Vollständigkeit des dargestellten Events. Auch bei
Übertragungsfehlern oder anderen Störungen haftet sie nur im Fall von Vorsatz oder grober Fahrlässigkeit.
Die Nutzung von hier archivierten Informationen zur Eigeninformation und redaktionellen Weiterverarbeitung
ist in der Regel kostenfrei. Bitte klären Sie vor einer Weiterverwendung urheberrechtliche Fragen mit dem
angegebenen Herausgeber. Eine systematische Speicherung dieser Daten sowie die Verwendung auch von Teilen
dieses Datenbankwerks sind nur mit schriftlicher Genehmigung durch die United News Network GmbH gestattet